So like 3 years ago I made that list of hotties because quite a few people did. So did
1_rhiannon_1
And like half a year ago or so...I don't remember...I started changing people on there and later on me and
lizaines
were talking about it. Well she was thinking about doing a list too and it reminded me that I totally forgot about it so now here I have a new one with lots of changes. The old one doesn't exist anymore...sorry lol
Also, there are probably more I forgot. If I remember, I'll add them. I might eventually also add footballers and more singers because to be honest, there's just too much and I don't even know how much more fits into this list without LJ giving me shit about word limit lol
My list is in alphabetical order...I would never be able to sort them all out to make a ranking. That's just way to hard. I also write a bit to each one of them so you know from where and why I like them. Some actors are new to my list and others I love since forever.
Allan Hyde
First saw him on True Blood and I fell in love with his character. I find him really cute and he just has to be on this list here. I wish there would be more Godric in True Blood because he's definitely one of my favourite characters in the show and I miss him. He's also basically the cutest Vampire.
Alex O'Loughlin
I love Alex. I first saw him in Moonlight as a sexy Vampire and now he's back in Hawaii Five-0 and he looks even hotter now with shorter hair. He's just....unf! I mean, just look at the gif alsdkjfaslöjgadsfjadsgsaf
Alexander Skarsgard
Yes, discovered him in True Blood and love him since then...means since last year ;) He's hella sexy...well he's european, that explains all hahaha ;)
Amaury Nolasco
One of the three Prison Break Hotties <3. Yea Prison Break is where I first really recognized him and later I found out that he was in 2 Fast 2 Furious which I have seen several times already so I just had to rewatch again. Also saw him in Transformes and then in Chase. He's just so cute.
Andrew Garfield
Andrew Garfield is such a cutie. Only saw him in The Amazing Spider-Man but he's so damn cute and just..unf.
Brian J. White
I first saw him in a dance movie called Stomp The Yard. I liked him and he was a really great dancer. Later on when I watched Moonlight like 2 years ago I recognised him again and I was like "oh he's the guy from this dance movie...and hmm he's so cute". Last year I watched Fighting with him and Channing Tatum and he is in Men Of A Certain Age. He's also the only celebrity I follow on Twitter who follows me back :)
Cam Gigandet
I have to admit that I first saw him on Twilight. I was not really into him in that movie since he had long hair. I usually don't like guys with long hair. So a few weeks after I saw Twilight I saw photos of him online where he had short hair and I was like...damn he's really hot. I later watched The Unborn and it confirmed it...since then I find him really hot. I mean just look at him <3 Just recently saw him in Burlesque and yeah...still hot.
Channing Tatum
First really saw him in Step Up and imediately fell in love with him. He's really hot. I watched all his recent movies except of Stop-Loss. Just recently saw him in Magic Mike and holy fuck! He's also such a good dancer. He's just too awesome.
Chord Overstreet
Seen him the first time in Glee and haven't seen him anywhere else (yet) but he's so adorable. I'm in love with his character in Glee and he's just so cute....and hot....and he plays the guitar...and he sings and just...unf!
Chris Evans
Hello Captain America! He's so sexy, I can't help it. I first saw him in Fantastic Four and his role was a bit of a douche but he was hella sexy and whenever I see him in a movie I think how sexy he is. My fave movie of his is definitely is Cellular...such a great movie. Followed by Push. Oh I love movies.
Clive Owen
There's something about this man that I find really attractive. I don't know what it is but there is something. I mean have you seen him in Sin City or Shoot Em Up? He's so damn awesome I can't help but love him. He's an awesome actor.
Colin Farrell
He's one of my favorite actors and I really like him and I find him really hot. I have to admit that I don't really like him all beardy and stuff but other then that he's really hot and I love his movies a lot.
Colton Haynes
Do I really have to give a reason for him to be on this list? I mean have you seen Teen Wolf? Just ugh...such a cutie.
Cory Monteith
Gotta admit, finding only one gif and picture of Cory Monteith is actually really hard because I have a lot on my tumblr. He's a total cutie and one of my favourite characters in Glee. Actually my second favourite. He's super cute and I love him. Rest in peace :(
Curt Mega
I love Curt Mega. He's absolutely adorable and super sweet and I say this because I actually met him for real. He's amazing and nice and cute and super awesome and so lovely with his fans and just...yeah. He's amazing and such an inspiration. He and his wife are super adorable.
Darren Criss
I first saw Darren on Glee and immediately fell in love with his character. He's also really attractive and after a while of seeing his character on Glee I started to find out who he is so that's how I found out about Starkid and because of him I basically started watching Harry Potter. not even kidding. Also he's so cute...I mean just look at the gifs.
David Henrie
Yes, David Henrie. I remember when my sister made me watch an episode of Wizards Of Waverly Place with her for the first time I thought he was a cutie and later found out that he's already in his 20's and only 4 years younger then me. I even watch WOWP..I have to admit that. I find it hilarious. Also for this post I went gif hunting and he looks so fine now. O.o
Dominic Purcell
hnggg! I think I have a Prison Break denial right now. I loved this show and I loved its actors. Lincoln Burrows was after Scofield my fave character and I found him totally adorable and cute. Dominic Purcell definitively deserves a place on this list here. Now I have Prison Break feels :(
Dylan O'Brien
Seriously, do I need to give a reason for Dylan? He's so cute and hot and funny I just....yeah, I can't. Can I be friends with him? Like honestly.
Eddy Martin
I only know Eddy from Glee because he's a Warbler and the Warblers are the best but then I think he's probably the cutest of them all. He's really attractive if you see his photoshoots and his main thing is taking photos and he's just absolutely adorable and cute and possibly one of the sweetest people I have ever met in my life. I met him this summer at G3 and wow he's such a sweetheart I absolutely love him.
Eli Roth
I love this man so much. I didn't really know him until I saw Inglourious Basterds and I just loved him in that movie. I later found out that he's actually a producer of several horror movies and I didn't know that nor have seen any of those horror movies...still. He's just so awkward, funny and weird...I love him. Whenever you see photos of him they're funny and hilarious and in all the interviews he's in he's always playing the funny guy. I'm sure he's so hilarious for real. I wish I'd know him.
Eric Balfour
I don't really know him if I'm honest. I have seen him here and there but I never really noticed him. A while ago when I was watching tv and came along MTV I saw a tv shows with vampires and was surprised to see something like that on MTV...I never really watched that show but I did recognise him in it. Later I started watching Haven and saw him again and I kinda finally started to really recognise him and now I really like him. Haven is the only thing currently that I watch where he's in and I still love his character. I gotta admit that I don't always like his long hair.
Grant Gustin
Grant is another one I know from Glee. Another Warbler. He's such a cutie and I love his smile.
Harry Shum Jr.
Hello hottie from Step Up 2 and 3 and most recently Glee...why you so cute? He's such an amazing dancer and seems like a really nice person. I really really really really love him.
Harry Styles
Well, Harry Styles. What should I say. He's just really cute. I have to admit that he's not the most attractive out of the 5 but he's cute nontheless.
Ian Somerhalder
Boone!! OMG first time I saw Ian Somerhalder. Boone also being my favorite character in Lost together with Charlie and Hurley. Now in The Vampire Diaries even tho I stopped watching the show haha. I'm Team Stefan but he's definitely one sexy human being <3
Jacob Artist
Jacob is a newbie on Glee and he's totally cute and his voice is sooooooooo nice. *swoon* He's just so adorable.
Jake Gyllenhaal
I had such a huge crush on him a few years ago...you can't imagine. I watched all kind of movies he was in. I don't have a crush on him anymore but he's still hella sexy.
Jamie Foxx
Hello sexy <3 I really have to watch that new Tarantino movie omg.
Jason Statham
Fine fine fine man and awesome actor. OMG perfect <3
Jensen Ackles
Do I really need to say something here? I mean hello? It's Jensen fucking Ackles. There's absolutely no explanation needed ;)
Joey Haro
I gotta admit that I know absolutely nothing about Joey. He's a Warbler in Glee but he didn't have lines or anything and was more in the background but I didn't miss the fact that he's really cute. The gifs are from a show called "Awkward" I think? I've never seen it but he's adorable.
John Cho
I already thought he's cute when he guest appeared in the second episode of Charmed back in the 90's so yeah lol. I just love him. He's adorable.
John Stamos
Yes, brings back Full House memories <3 Don't lie to me, you had a crush on him too when he played Jesse in Full House. Don't. Lie.
Joseph Gordon-Levitt
How can you NOT find him attractive. I love him and I love his movies even tho I still have to watch a lot of those but he's one fine man.
Josh Duhamel
Saw him in the Transformers movies and I thought he was really attractive. If you haven't seen Transformers then shame on you lol.
Josh Hutcherson
Josh Hutcherson. Sigh. I love him as Peeta. Whenever I see Hunger Games I'm just there like "aww he's soooooo cuteeee" and then at other times I see photoshoots of him and I'm just like "DAMN!!" and yeah. haha.
Keahu Kahuanui
If you watch Teen Wolf and you don't like Danny then something's seriously wrong with you and if you like Danny but don't think Keahu is even a little bit attractive then something's even more wrong with you lol. Honestly tho. Plus he's one of the cutest human beings ever.
Keanu Reeves
I am not gonna lie when I say that I have seen "Speed" about 50 times. It's by far my most watched movie of all my life. I also love Matrix and I love Keanu Reeves. Of course he's gotten older and anything and all long hair and beardy and stuff which again, like with Colin Farrell, I don't really like but nonetheless Keahu should deserve a spot in this list for all the years I was crushing on him haha. Funny enough I loved his short haircut in Speed the most. I also loved his Matrix hair. I've seen a ton of his movies and I really like him.
Keegan Allen
There's just something about him that I find attractive. I don't know what.
Kellan Lutz
Only saw him on Twilight but he's quite good looking.
Kevin Alejandro
</p>

well Kevin Alejandro. I don't know what to say about him other than I love him. I love me some latino sometimes. I love people that talk spanish. It's so sexy and he's also portraying one of my favourite characters in True Blood. Or should I say DID portait? :( I still hate everything about this...even after all this time. Why did he have to go sigh. He's also part of my OTP in True Blood and then this...ugh. Nonetheless I find him very attractive.

Liam Hemsworth


Well what is there to say about Liam Hemsworth? He is actually really attractive. I thought this already when he was in the movie with Miley Cyrus and it didn't change seeing him in The Hunger Games.

Liam Payne


There's absolutely no explanation needed for why Liam Payne is in this list.

Louis Tomlinson


And there's no explanation needed for this either.

Mark Salling


Another member from the Glee cast. I do think he's quite attractive

Matt Davis


Matt Davis, Alaric Saltzman from Vampire Diaries. Which I stopped watching because obvious reasons. Later on saw him on the show "Cult" as well. He was one sexy teacher in TVD. I'm pretty sure you all agree there, right?

Matt Le Blanc


Love him since Friends. Joey was my favourite and in my opinion he was the hottest of the guys on the show. I still find him sexy. <3

Matthew Perry


Chandler was my second favourite character in Friends after Joey and I thought Matthew was after Matt my second attractive male on the show. I do think he's still attractive.

Michael Ealy


love love love him in Almost Human and he has such a pretty face.

Michael J. Fox


Michael J. Fox deserves a spot here just for the fact that I had a crush on him over years and years when I was a teenager. I had a crush on him when he was in the Back To The Future movies, in Frighteners and all his 90's movies to be quite honest. Fact is, I had a crush on his younger self. Even when he was a werewolf in the Teen Wolf movie. Obviously he's gotten older now an everything but I still think he looks good for his age and with his illness he's an even more inspiration to me now. I read his book and I'll read his second book soon and he's very inspiring how he manages his life with having parkinson. I currently watch him in his new show and I'm not gonna lie when I say that I missed him in the movie/tv shows business. He's one of my favourite actors and one of my most favourite people in general. Not to mention that Back To The Future is my favourite movie of all time. So yeah, he definitely deserves a spot in this list.

Michael Trevino


Another one I only know from The Vampire Diaries and haven't seen on my screen in a long time since I don't watch the show anymore but I thought he was very attractive. Him playing a werewolf didn't help either. I see him on photos from time to time in the Glee fandom because he's dating Jenna Ushkowitz. Tho then idk if they still are together haha. But yeah, even tho Tyler wasn't always my favourite in TVD I still liked him and thought he was such a cutie.

Niall Horan


To be honest, I should say no explanation needed here as well but Niall is that one person where in the same year I changed from saying "aww he's so cuteee" to "god damnit why are you so attractive". The same thing that happened with Liam but with Liam this happened like an year ago and with Niall it changed this summer or something. I don't even know. Not that either of them is not cute anymore. I mean just look at the gif but jesus. I think it is because they've gotten older and they all turned into fine men lol. And Niall playing his guitar is not really helping. And having seen that live didn't help either. I think that part changed everything a lot. Also, Niall seems like such a sweetheart. I just wanna give him a hug. Good thing to know is, he would even let me lol.

Paul Walker


Yes, Paul Walker will always stay in this list. Forever and ever and ever. He's another one I constantly had a crush on and I love him in all the Fast & Furious movies and any other movie I watched of his (which is a lot since he's one of my favourite actors which makes everything even worse). I had a poster up of his for years and years and I think he's really attractive and he had such a cute smile. I love him. I can't believe there won't be any more movies of his. I'm still sad about all this. I will be sad for a long time probably. Rest in Peace, love <3

Paul Wesley


Sometimes I ask myself if it was a good idea to quit watching The Vampire Diaries. I love Stefan. I was on Team Stefan. I love Paul Wesley. I think he's very attractive but then the whole cast was. I wonder if there's anything else he's doing at the moment. I am definitely not up to date with stuff the TVD cast does outside of the show.

Peter Facinelli


I gotta admit, the reason why I went through three movies of Twilight is mostly because of the cast. Even tho I prefered the wolves in the movies I still liked most of the vampires. Carlisle was one of them. Also saw Peter in Fastlane which was a great show but sadly only like 1 season. I was also pleasantly surprised that he had a few guest appearances in Glee this year :)

Riker Lynch


You either know Riker because he was on Glee as a Warbler or you know him because he's in a band called R5...or you don't know him at all haha. I think he's totally cute and I met him this summer and he's really sweet and tall and wow. He looks really good in real life man. Plus, he's a really really good dancer.

Robert Sheehan


So so so so glad I started watching Misfits when it came out. I don't even remember how I heard of it but I did and I'm glad about that. I was even able to watch the last season on actual tv. Sadly enough Robert wasn't in all of the seasons. I think he left after season 3 so yeah. But at least I heard of him haha. I did start watching Love/Hate because of him and that was the first time I actually realised he's Irish ahaha oops. I mean I think in Misfits he went with a british accent. But to be honest I don't even remember but I thought he was English until I heard of that Irish show. I wonder where I can watch the rest or when it will be on tv. And on top of all I'm so pleased he's playing my favourite character in The Mortal Instruments series. I hope they gonna make the second movie too and he's gonna continue playing Simon because I really wanna see him getting turned into a Vampire ahahahaha ;)

Shemar Moore


I love love love Criminal Minds and he plays my favourite character and he's also the most attractive on the show for me...and he's so cute as well sigh.

Shia La Beouf


I don't care what people say but I love Shia. When I watched Transformers I thought he was really attractive and I've seen a bunch of other movies of his as well and thought the same so yeah. The Transformers movies are some of my favourite movies.

Steven R. McQueen


And we're back with Vampire Diaries. For some reason brothers of main characters are always really attractive. Tell me why this is a thing sigh. I've seen somewhere that he dies in TVD as well....maybe it was really a good decision to stop watching because otherwise I would have trashed something in my room because I started to hate everything and that's why I stopped. Him dying later on would have only added to my anger already.

Taylor Lautner


I'm not even denying the fact that I find him attractive. Also admitting that I was on Team Jacob in the Twilight Saga....tho I've never seen the final two movies...ugh already the books made me wanna cringe with the whole pregnancy thing with Bella and all and yeah but I've read all the books so there you go. I've also seen him in other movies than Twilight.

Telly Leung


Telly is most probably the sweetest and most amazing person I have ever met in my life. I'm not even exaggerating at all. If you read my G3 entry you see why. He's absolutely adorable and down to earth and so so so so so sweet wow. I wish I'd be friends with him and gay or not he's really attractive on top of all.
T.I.


For me T.I. is the most attractive rapper out there. It's funny how much hip hop I actually listen to but I hardly find any of the rappers attractive. But hey, I listen for the music, right? :P

Til Schweiger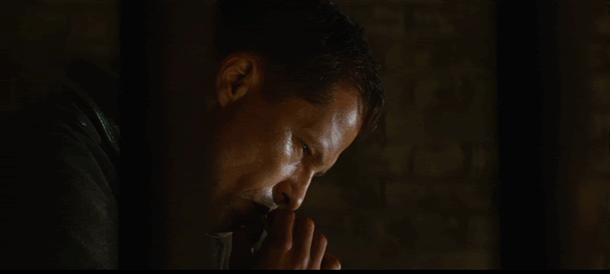 Yes, guess what, a german made it in the list. I love love love Til Schweiger. He's my favourite German actor and he's one of the few that made it to hollywood as well which pleases me a lot. I mean I don't watch a lot of german movies tbh but i've seen a few of his but I really love him in Inglourious Basterds.

Titus Makin


Titus is another Warbler from Glee and he was supposed to be at G3 last summer but he couldn't make it so I didn't get a chance to meet him but I'm pretty sure he's a sweet sweet person. He seems like it from all the livestreams he used to do with other Warblers. I also think he's really cute and attractive :)

Tyler Blackburn


He's adorable. Nuff said. Even tho I'm not usually into long haired men. But he works it well enough for me lol

Tyler Hoechlin


He's so cuteeee. Did I mention how much I love werewolves? No? Well I do. And Tyler plays a great one and he's really hot. Nuff said.

Tyler Posey


Still don't believe me about the Werewolf thing? Maybe now you do lol. Tyler Posey definitely has to be on this list.

Wentworth Miller


I don't care if he came out last year...he's still attractive and I pretty much love Prison Break just for that fact. And the rest of the cast but yeah. I admit I had a crush on him while watching Prison Break. God, the series finale killed me sigh. I miss this show even tho it had to end after season 4. No more seasons would have been a good thing. It also took me a while to realise he's in Mariah Carey's music video lmao. I'm so slow most of the time.

Will Smith


Well I hope you're not surprised to see him here given the fact he's literally my favourite person ever on this planet (Apart from my family obviously). I love everything about him. He's attractive, always has been and he doesn't look like he's aging at any time soon. I don't know his secret but I will find out. He's my favourite singer rapper, actor, entertainer and person in general. I could watch The Fresh Prince Of Bel-Air every day, I could rewatch the whole show a billion times...I don't care. I love this show so much and I've literally seen every single movie he's ever done except maybe his first two ones. He seems like such a fun person to hang out with and he can always make me smile. I grew up with him and I'll grow old with him. I love him so much. I hope I meet him before I die. It's one of my life goals.

Zayn Malik


Zayn Malik is the last person to need explanation to be in this list. If this list was sorted by attractiveness he would be on the top of the list. Just look at his perfect face sigh